Hey kitties! I wrote the following article for NA Alley and you can read it and other awesome posts about New Adult books and media over on NA Alley!
Do You Cosplay?
Using cosplay to engage with your audience
It may be true that genealogy is the fastest growing hobby in the world, but for the teen and new adult group the clear winner is cosplay. And when you think about it, it totally makes sense. Being a new adult is all about defining and expressing yourself as individual, and finding your tribe, and cosplay offers participants a way to proudly wave their little geek flags for the world to see.
For those of you wondering what exactly cosplay is, here's the jist: Cosplay is a performance artform that originated in Japan, and is a shortened form of the words costumed play. It started as a small counter-culture hobby that has now grown to be a worldwide phenomenon. It's basically when you dress up as a character from a movie, book, or TV show you're a fan of. But as a clarification, promotional items and cosplay are not necessarily the same thing. For example, wearing a shirt with your book name or cover is not cosplay unless you are intentionally trying to be meta like the TV show Supernatural does from time to time (seriously people, they have their own in-canon convention & fan fic).
To those unfamiliar with the phenomenon that is cosplay you may be wondering how on earth dressing up is going to help you engage with readers. Well here's how:
We're All Geeks Here
Since most of the live events I go to are anime- or comic-related, I am always in cosplay. I'm a hardcore costume lover and it offers me a fun way to share in the fandom with other fans. It is also a great way to break the ice with attendees and an easy way to bridge that, what do I say? gap with the peeps on the other side of the table.
That being said, I'm aware that not everyone is as extroverted as I am. Hell, I talk to random strangers in lines just so I don't have to deal with the silence. So for you shyer peeps, here are a few simple steps to ease into cosplaying and live events. Pick your favorite currently-airing TV show and cosplay as one of those characters. That way, when someone comes to your table you two can gush about last week's episode of Doctor Who or Once Upon a Time instead of feeling like you have to launch into a pitch for your own books. After a bit, you'll start to feel less anxious, and when you do mention your books, it will feel more like chatting with a friend then pitching a product.
Hey there, Cyber Cowgirl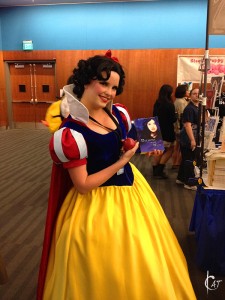 For those of you who don't partake in the craziness that is live events, cosplay can still offer huge opportunities for reader engagement. You could run a cosplay contest in which readers can cosplay as something from your story world or any book world. Or create fake ads with fictional characters reviewing books. Or cosplay scenes from your books and use them for creative teaser posters. At a loss for ideas? Check out what others are doing in the fan communities you belong to (the G+ Hunger Games and Doctor Who communities totally rock this!).
Fan Service
The easiest way to, well, make it easy for your readership to play along and cosplay your characters is to provide them with the necessary info to actually pull it off. This could be a page on your website with complete descriptions of your characters, or a Pinterest board with everything related to your characters and story world, or a downloadable set of instructions to create your own set of daemon horns. I for one, know that the only way I was able to cosplay a Shadowhunter from Cassandra Clare's Mortal Instrument series was because the movie production company was kind enough to post a downloadable rune sheets to the web.
Cosplay, Not Just for Spec Fic
Even though this is a spec fic week I didn't want to leave you Contemporary NA writers out. Even though your stories aren't populated by the supernatural and the supertech, there are still ways you can incorporate cosplay into your live event arsenal. For example, you can wear things your characters would, like a piece of jewelry or a fake tattoo (they sell print your own temporary tattoo paper at most large office supplies stores). Or you can have something associated with them as a table prop or decoration.
Well, that's it for now kitties. I hope you dare to be different, and join the crazy awesomesauce that is cosplay!