Hello my little samurai kitties! I've got a new release to feature today, this time for my Indelibles teammate Lee Strauss. So here's a bit about the book, the pretty cover, and even codes for free books!
Peace & Goodwill
The Minstrel Series Book 4
So good to fall in love. So hard to say good bye.
Belle gets the best Christmas present ever, a man in uniform! Ian is a soldier home on leave. Neither of them have any idea how good it will feel to fall in love or how hard it will be to say good-bye.
Anna is spending the holidays alone again with only her faithful dog Angel to keep her company. She can't afford to pay the rent and her landlord is threatening to kick her out. At least she's finished with her chemo treatments. She can be thankful for that. Plus, there's Rhys, the handsome visitor with kind eyes.
One fateful, cold and snowy night a chance encounter changes everything. Love is lost. Love is found. Life will never be the same.
Praise for Peace & Goodwill
"This is truly a stand alone novella. You don't need to be familiar with any of the other stories in the series. It's a quick, feel-good read which is perfect for Christmas!"
—Melanie, Amazon Reviewer
"This one will tug at your heart strings."
—Aimee Brown, Amazon Reviewer
"You can trust me when I say that it is not lacking in the emotions. Oh no! They are there. Sweet and sad all rolled into this surprising little novella. 5 Pulls At Your Heart Stars!"
—Mandy @ireadindie, Amazon reviewer
Lee is giving away iBooks promo codes for Flesh & Bone and Heart & Soul to everyone who asks for one in the comments!
Yes, there is also a song! Listen to the featured original Christmas song HERE!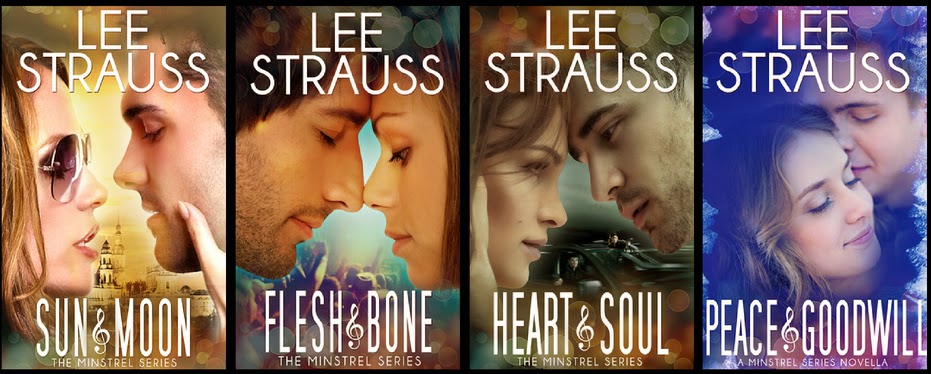 About The Minstrel Series
The Minstrel Series is a collection of contemporary romance novels set in the singer/songwriter world. The books are companion novels, with shared settings and characters, but each is a complete stand-alone story with a HEA (happily ever after) and no cliffhangers!
The books include MP3 links to original music by talented Indie Artists, so you can hear the characters sing!
#1 Sun & Moon
#2 Flesh & Bone
#3 Heart & Soul
#4 Peace & Goodwill
The series also has its own Facebook page and its own Bandcamp page where you can listen to the original music associated with the books. Albums are also available on Amazon.
About the Author
Lee Strauss is the author of The Minstrel Series (contemporary romance), The Perception Series (young adult dystopian) and young adult historical fiction. She is the married mother of four grown children, three boys and a girl, and divides her time between British Columbia, Canada and Dresden, Germany. When she's not writing or reading she likes to cycle, hike and do yoga. She enjoys traveling (but not jet lag >:0), soy lattes, red wine and dark chocolate.