Hello my little samurai kitties! I've got a guest post to feature today and part of the second day of Lee Strauss' Gingerbread Man tour, as well as a new excerpt and a giveaway! So here's Lee to tell a bit about why she chose a serial format for her current release!
Why Serials?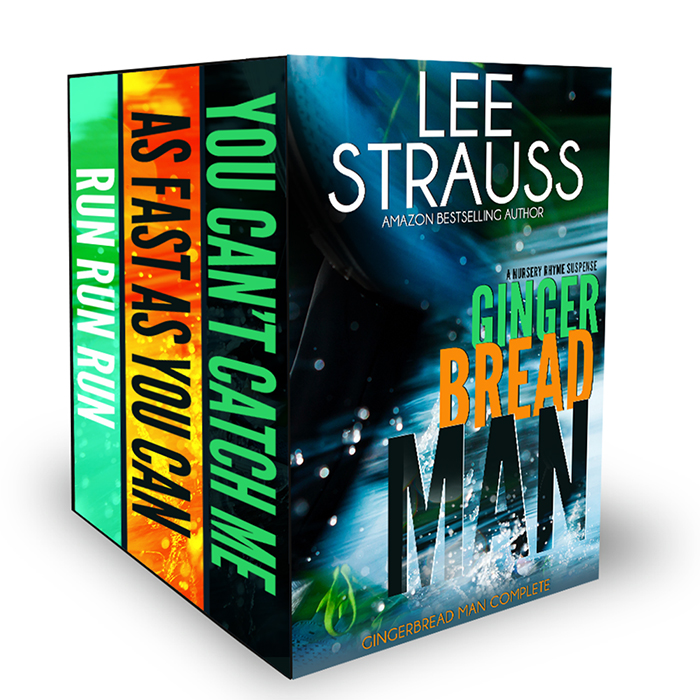 What is the fascination with serials? It seems like everyone is writing them now. And readers are reading them. I can tell you from a writer's perspective why I'm writing A Nursery Rhyme Suspense, and as a reader I can tell you why I like to read them.
They are like literary TV shows. I think most people would agree that television writing in the past decade has been outstanding (for the most part). Think Breaking Bad, Friday Night Lights, Gilmore Girls. There is a reason why these shows were so successful. The writing is terrific.
There has also been a trend in TV shows that follow one long story arc, rather than each episode being it's own arc. These have seen recent success as a result of streaming TV and sites like Netflix that allow for binge watching. It's easy to start from the beginning and watch right through to the end. Breaking Bad is written this way as is Terminator: The Sara Connor Chronicles and the first season of Veronica Mars (VM was a hybrid: a season long story arc mixed with episodic short story arcs)
Serials are like literary TV shows. Some authors write whole seasons of six or more volumes to tell one story. Some write short episodes, each 10k to 15k each. Others, like myself, write longer episodes of more than 20k that would also qualify as novellas.
Episodic writing takes a lot of thought. Whereas a novel as a beginning, middle and end, when writing serials, each episode has to have a beginning, middle and end (that's not to say the ending won't be a cliff – it most likely will – much like TV shows do, to entice the viewer to tune in again next week or to click the next episode on Netflix.) Episodes have to make sense on their own. I think that makes for tighter and more interesting writing. At least it makes it a challenge to the writer.
And like TV, each episode can be slightly different in tone or style from the others, if the author choses. With the Gingerbread Man, episode 1 is told from the Victim's and the male protagonist's point of view with very few scenes from the female protagonist. In episode 2 the point of view alternates between the male and female protagonist and in the third episode, it's told entirely from the male protagonist's point of view. These are devices that maybe wouldn't work well in one novel, but are fine in episodic writing.
Readers love serials for the same reason they love their favorite TV shows. They can consume episodes in a short amount of time, they anticipate the next installment and they grow attached to the characters and their unique world and personal struggles.
If you've never tried reading a serial before, I hope you will give Run Run Run – Gingerbread Man a chance.

FRINGE meets CASTLE in this New Adult Sci-fi Mystery Suspense.
Episode Release Dates
Episode 1 — Run Run Run — December 31
Episode 2 — As Fast As You Can — January 7
Episode 3 — You Can't Catch Me — January 14
Gingerbread Man (ep 1-3) complete — January 28
Episode 1 Releases Dec. 31st!
Pre-order now!
Amazon | iBooks | Nook | Kobo | Google Play

Exceprt 2 from Run Run Run
SAGE
"I met this guy," Teagan said quietly. "He said something that kind of creeped me out."
I blinked several times as I processed this and twisted to face her. "You're online dating?"
She shot me a horrified look. "No! It's not a dating site. It's a campus chat room."
Nora swung her legs around and returned to a sitting position. "What'd he say?"
"Well," Teagan began, "he told me that there had been a rape and that I should be careful."
I didn't get it. "Why does that creep you out?"
"Because he told me about the rape before it happened."
What? Nora and I chimed in together. "Before?"
I leaned forward and asked, "He predicted the rape? How?"
Teagan shrugged. "Maybe he's psychic?"
"Or," Nora began, "he did it. His way of playing with your head."
About the Author
Lee Strauss is the author of The Minstrel Series (contemporary romance), The Perception Series (young adult dystopian) and young adult historical fiction. She is the married mother of four grown children, three boys and a girl, and divides her time between British Columbia, Canada and Dresden, Germany. When she's not writing or reading she likes to cycle, hike and do yoga. She enjoys traveling (but not jet lag >:0), soy lattes, red wine and dark chocolate.