Hello my samurai kitties! I've got two cover reveals to feature this week, this time for my NALitChat teammate and pal ST Bende. So here's a bit about the books, the pretty covers, and even a giveaway!
TUR
The Elsker Saga #0.5
Some things are worth fighting for.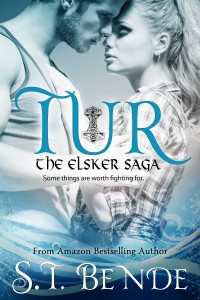 Inga Andersson is the envy of every girl in Asgard. On the surface she has it all—great friends, a job as Odin's personal fight choreographer, and a happy ever after with her realm's hottest assassin. But when evil invades Asgard, her perfect world comes crashing down. Someone is planning to kill off the gods, and Inga's best friend Ull is first on their list. With the Norse apocalypse a nanosecond away, Inga has to decide how she'll spend her final moments of freedom. Because from the moment this battle begins, Inga's happily ever after will be nothing more than a memory.
TUR is an Elsker Saga novella that is approximately 10,000 words long.
Elsker
The Elsker Saga #1
You don't win the heart of an immortal assassin without making a few enemies along the way.
Kristia Tostenson prefers Earl Grey to Grey Goose and book clubs to nightclubs, but when she transfers from her one-stoplight town to Cardiff University in Wales she falls in love with Ull Myhr. Her new boyfriend isn't exactly what she was expecting. He's an honest to goodness Norse God - an immortal assassin fated to die at Ragnarok, the battle destined to destroy Asgard and Earth. Kristia's crazy visions are the only thing that can save their realms. Her orderly life just got very messy.
About the Author
Before finding domestic bliss in suburbia, ST Bende lived in Manhattan Beach (became overly fond of Peet's Coffee) and Europe… where she became overly fond of McVities cookies. Her love of Scandinavian culture and a very patient Norwegian teacher inspired the books of The Elsker Saga (TUR, ELSKER and ENDRE). She hopes her characters make you smile and that one day, pastries will be considered a health food.
Find ST on Twitter @stbende or her blog. While you're at it, introduce yourself to @UllMyhr -- when he's not saving the cosmos from dark elves, he loves meeting new friends. Especially the human kind.