Hello my little samurai kitties! I've got a cover reveal to feature today, this time for my Indelibles teammate Karen Amanda Hooper. So here's a bit about the upcoming serial series, the pretty cover, and even a giveaway!
Virtual Arcana
The Fool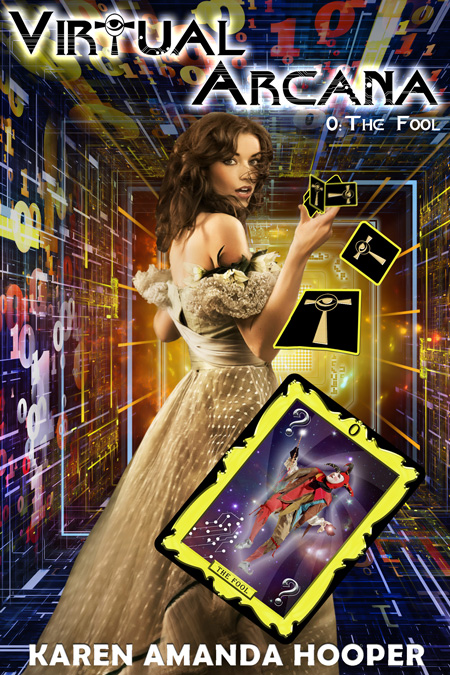 In a faraway future, Kelsey Zellar is starting her senior year at yet another school thanks to her twin sister's troublesome obsession with outlawed virtual reality games.
Every school they've ever attended is pretty much the same: lunchroom drama, rich kids binging on enhancement candies, and classmates rallying for or against the government's strict control over everything from entertainment privileges to caffeine consumption.
Unlike her sister, Kelsey follows the rules and keeps her nose out of trouble and politics while sniffing out her next flavored latte and favorite novel. But when Kelsey meets a charming book connoisseur, and accepts his offering of a tarot card, she takes the first step toward two new addictions: the guy of her dreams, and his illegal dealing of virtual escapes into her beloved storybooks.
Kelsey straddles the worlds of fiction and reality, but is she a fool for believing in her own
happy ending?
"I love the cover because it represents the story so perfectly—a blend of old-fashioned and techy, romance and magic, reality and illusion, The Notebook meets The Matrix (with a sprinkling of The Giver). Some friends saw an early sneak peek and asked if the girl was real or a CGI (computer-generated image). That put a huge smile on my face because that is the perfect question for this series." *insert mischievous smile here*
—Karen Amanda Hooper
"It's an experiment for me as an author and for my readers. If Virtual Arcana develops a good following I'll continue with season 2 and 3. That would mean 22 total episodes, one for each of the 22 major arcana tarot cards."
—Karen Amanda Hooper
Virtual Arcana will release this fall serial style, meaning short episodes (averaging 15-20k) will be published frequently (official schedule TBA), instead of waiting 6-12 months between each long book in a trilogy. Each episode will be named after one of the major arcana cards of a tarot deck.
Season 1 Episode List
0- The Fool
1-The Magician
2-The High Priestess
3-The Empress
4-The Emperor
5-The Hierophant
6-The Lovers

About the Author
Karen Hooper writes young adult paranormal and fantasy, and is the author of author of The Kindrily series and The Sea Monster Memoirs. She is currently sunning and splashing around Florida with her two beloved dogs. She's addicted to coffee, chocolate, and complicated happily-ever-afters.
You can find her at www.KarenAmandaHooper.com