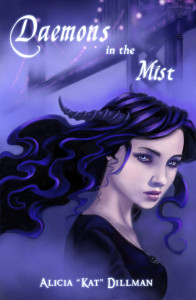 Daemons in the Mist
May 2011
Korat Publishing
She could have been a perfectly normal, albeit a breathtakingly beautiful girl, but she wasn't, for I knew there were secrets hidden behind her eyes.
Seventeen year old Patrick Connolly has been drawn to Nualla ever since he first saw her, but as the years pass she seems to take absolutely no notice of him. Until, that is, he rescues her from a confrontation in the school hallway. Little does he know that he's about to be thrust into a world of life altering secrets and things that shouldn't exist, because the fog and mist of San Francisco is concealing more than just buildings.
Deliriously captivating and extraordinarily soulful, Daemons in the Mist beautifully weaves together two voices to tell the story of what happens when life leads you down a not so normal path.